Take Your Crystal Knowledge and Skills to an Even Deeper Level
It's time to step into your true crystal calling…
Become an Advanced Crystal Practitioner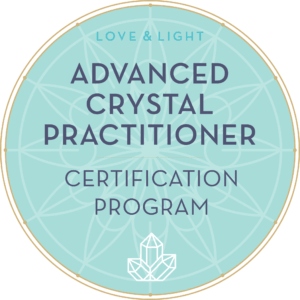 Does this sound like you?
You're now a Certified Crystal Healer, and have all the skills you need to work confidently with your stones…
But you feel like your crystals are calling you even deeper still.
You know in your heart that you want to keep expanding your knowledge and skills to become the very best crystal healer you can be.
The ACP Program will help you pull together all of your crystal wisdom and find deeper understanding about your Life Path & Soul Journey with your stones.
Ready to build on your solid foundation from the CCH Program 
Deeply committed to your own spiritual development
Wanting to learn the more advanced aspects of crystal healing with a higher-level qualification

Ready to become an insightful, confident & energetically connected crystal expert…

The ACP Program is the perfect next step for you.
One of the most common questions I get asked from my CCH graduates is this –
"I LOVED the CCH Program, but what do I do now? Do you have an advanced course that I can take next?"
After completing their Crystal Healing Certification, they feel knowledgeable and supported as a healer… but they want to go even deeper still.
They don't want their personal and spiritual development to end because they feel so deeply called to work with their stones.
Does this sound like you, too?
I created this course to bridge the gap between the CCH program and what lies ahead for you on your crystal journey.
My ACP Program is the next logical step for you to take.
Because the world needs more skilled, confident & spiritually connected crystal experts!
I can't wait to share in your continued transformation through this course.
See you on the inside,
In the ACP Program, You'll Discover How To:
Perform sophisticated chakra balancing techniques that will enhance your health & wellness
Master advanced healing skills like past life clearing, distance healing & more
Identify & work with the different Quartz formations, for supercharged energetic healing
Offer comprehensive crystal healing support for animals & pets
Safely prepare & formulate gem waters and crystal elixirs
Combine crystals with your other passions like reiki, aromatherapy, tarot and more!
Here's What You'll Get...
10 MASTER LEVEL VIDEO CLASSES
BONUS CRYSTAL DIRECTORIES & GUIDES
AN ADVANCED CRYSTAL PRACTITIONER CERTIFICATION
Your Advanced Crystal Classes:
Click on the diamonds below to display a description of exactly what's covered in each class.
Class 1 - The History of Crystal Healing
Crystal Healing has a long and intriguing history that spans thousands of years and hundreds of cultures and regions. Learning the many ways crystals and stones have been used throughout time will help you conceptualize the importance of your healing journey, and will increase your confidence in your path and how to explain the benefits, and validity, of crystals to your friends, family, and clients. We'll cover crystals legends & lore, prominent figures in crystal healing, and more.
Class 2 - Advanced Chakra Healing Techniques
Master your chakra healing practice and set your services apart with innovative and cutting-edge chakra balancing, clearing, & activation techniques. This class will also teach you how to personalize your chakra healing sessions by tapping into the power of crystal systems and sacred geometry. You'll also learn how to prioritize the care of your own chakras so you can serve others with clear energy & love. These chakra healing techniques are unlike anything else being taught in the crystal community and are sure to elevate your skills and status as a healer.
Class 3 - Distance Crystal Healing
In today's technology-centric, globally-connected world, distance crystal healing sessions are in high demand and they allow clients to connect with you from all over the world. In this class, I'll teach you how to perform distance healing sessions with layouts, grids, and more; as well as how to send energy over long distances that your clients will feel and benefit from, even from the other side of the globe! You'll learn specific distance healing techniques not taught anywhere else!
Class 4 - Your Crystalline Body
Did you know you are a human crystal? Your body is made of many organic and inorganic compounds. In this class, you'll learn about the major minerals in the human body and how you can work with crystals to support physical healing on an energetic level. We'll discuss anatomy & physiology, the function of the body's essential minerals, and how crystals can help restore balance and promote wellness.
Class 5 - Gem Waters & Crystal Elixirs
Gem Waters & Crystal Elixirs allow healers to create potent crystal energy-infused tinctures for themselves and their clients. Using these essences over time can promote the continued healing of the body, mind, and spirit. However, as the popularity of these elixirs increases, many healers and practitioners lose sight of the need for using caution and taking appropriate safety measures while creating their elixirs. In this class, I'll teach you how to properly prepare & store your elixirs and I'll give you tons of great crystal elixir recipes, while also teaching you how to safely make your own intuitive gem water blends. We'll also cover important topics like dosage and frequency of use.
Class 6 - Supercharging Your Intuition with Crystals
Most healers would consider themselves intuitive since listening to the intuition forms the underlying basis of many healing modalities, but this class will take your intuitive development miles ahead by helping you develop your natural intuitive skills. In this class, you'll learn to supercharge your intuitive development by honing in on your natural clairvoyance, clairaudience, clairsentience, and more. You'll learn how to use crystals to develop mediumship, channeling, and seership as well as how to use crystals to remove energetic debris that could be blocking your third eye. You'll also learn how to work with stones to activate your third eye and de-calcify your pineal gland to fully integrate your innate spiritual & intuitive abilities.
Class 7 - The Master Formations of Quartz
The unique formations of Quartz crystals, the master crystal, have been noted by crystal healers and teachers for decades for their healing abilities. They are each thought to have their own inherent energetic qualities, in addition to those of the Quartz crystal itself. In this class, you'll learn how to identify these master formations, what they can be used for and how to incorporate them into your healing work including dows, channelers, record-keepers, soulmates, and more!
Class 8 - Crystal Healing for Animals & the Environment
In this class, you'll learn techniques that can help with a variety of physical and emotional issues in pets. You'll learn to combine specific crystal types with proper placements to balance your pet's energy field. Although cats and dogs will be the primary focus of this class, these techniques can be applied to any animal (including horses, rabbits, birds, and more). We'll also discuss planetary healing for our animal companions as you learn about global, ecological healing and support. Additionally, you will be given recipes for crystal grids and crystal elixirs that are beneficial for animal wellness (along with the proper way to use them for healing).
Class 9 - Past Life & Karmic Healing with Crystals
Your past life experiences and karmic attachments can have a profound impact on how you both send and receive healing energy in your current incarnation. When you're able to release attachments and contracts through all time, space, and dimensions, you can be sure that you're serving your clients with your most pure self. In this class, you'll learn how to work with crystals to continually healing yourself, nourishing your soul, and live your best life for the highest good of all as well as help your clients do the same.
Class 10 - Crystals & Other Healing Arts Modalities
Crystals work perfectly alone and healing sessions where crystals are in the spotlight are incredibly powerful, but crystals can also be combined with a wide variety of other wellness & healing modalities to help you combine your passions and offer new & exclusive services to your clients! In this class, you'll learn about some of the hottest wellness practices and exactly how you can incorporate crystal healing with those modalities. We'll cover how to combine crystals with yoga, life coaching, ayurveda, aromatherapy, Reiki, sound therapy, intuitive readings, herbs, reflexology, massage, and SO much more!
That's more than $2,400 worth of advanced crystal training!
Ready to enhance your
crystal knowledge & grow
your skills even further?
ENROLL NOW IN THE
ADVANCED CRYSTAL PRACTITIONER PROGRAM:
Only $799 (normally $1222!)
— OR —
$144 p/m for 6 months
Here's What's Included With Your Enrollment:
10 ADVANCED CRYSTAL PRACTITIONER CLASSES WITH VIDEOS, WORKBOOKS, SLIDESHOWS, RESOURCE LISTS & MORE ($2400 VALUE)
4 LIVE ACP OFFICE HOURS CALLS WITH ASHLEY ($500 VALUE)
TONS OF BONUS CRYSTAL DIRECTORIES & GUIDES FOR QUICK REFERENCE ($350 VALUE)
WEEKLY ACP ORACLE CARD READINGS ($300 VALUE)
CURATED CRYSTAL READING LISTS ($100 VALUE)
UNLIMITED STUDENT & TECHNICAL SUPPORT (PRICELESS!)
FREE LIFETIME ACCESS TO ALL FUTURE ACP PROGRAM UPGRADES (PRICELESS!)
That's more than $3,600 of
Crystal Coaching & Training!
The ACP program
will provide more
structure to the
skills you
already have.
The ACP program
will provide more
structure to the
skills you
already have.
You'll learn advanced crystal skills and techniques, and discover how to integrate them into your other wellness passions, including:
Reiki & energy healing
Intuitive work & mediumship
Massage & reflexology
Aromatherapy
Shamanism
Feng Shui
Nutrition
Yoga & meditation
And more…
Understand Crystals Like Never Before
"Everything just clicked and I actually understood… I feel like I now understand crystals better than I ever did before! I feel incredibly blessed to be doing this course and have Ashley as a mentor."
– Siobhan Moller, Love & Light Student
BE MENTORED BY A KEY CRYSTAL TEACHER OF OUR TIME
"The ACP Program has been life-changing. Having someone like Ashley as a teacher — someone so smart and spiritually connected — to truly explain how crystals "work" has given such credence and credibility to what I already knew was true. I believe that Ashley is a key teacher for our time."
– Jody Ben-David, ACP Student
FREQUENTLY ASKED QUESTIONS
You can still enroll in the ACP Program, and we'd love to have you join us! The ACP course is specifically designed to complement the CCH Program, and help you build on your knowledge from the CCH Program.
While you can jump ahead to the ACP Program if you wish, we recommend you first fully complete the CCH course and exams. You will not be able to receive your Advanced Crystal Practitioner Certificate until you have completed your Crystal Healing Certification Program first.
If you feel deeply committed to your own spiritual development and feel called to the healing arts, then this Program is right for you.
The ACP program will take to an even deeper level of understanding and experience with crystals.
I'd love for you to join me.
You can go through the course one class per week with Ashley, or go at your own pace and complete the classes as your schedule allows. All the classes and live calls are recorded for you to watch and review later, and you'll be able to join in for all future live rounds of the courses as well.
I know that the ACP Program will transform your life, and grow your healing skills more than ever before.
The world needs more confident, skilled and heart-centered crystal masters…
If you're ready to step up and have a profound impact on the world, I'd love to have you join me in the ACP Program today.